ZERO-WASTE BOTANICAL ORAL CARE

Award winning oral care for the whole family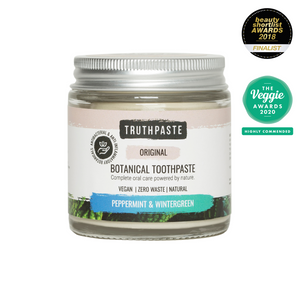 ORIGINAL: PEPPERMINT & WINTERGREEN
Our Original "OG" and best seller. With neem, myrrh and aloe vera for a powerful full mouth clean.
"Have used other similar products from different companies.
They don't compare with this product.
The only tooth paste where I can feel it working deeper then the rest.
My teeth feel healthier and cleaner when using truthpaste."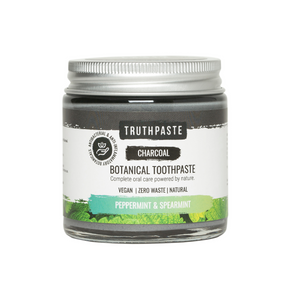 CHARCOAL: PEPPERMINT & SPEARMINT
A little bit sweeter, a little bit milder, but still with all the benefits of our botanical blends, and with added Activated Charcoal for that extra whitening power.
"Using this for only a week I have noticed a dramatic improvement in the bleeding and has brought down the inflammation around the crown. I was only looking for a fluoride free toothpaste but I found more than I bargained for! Thank you. Defo a stapel product in my home from now on"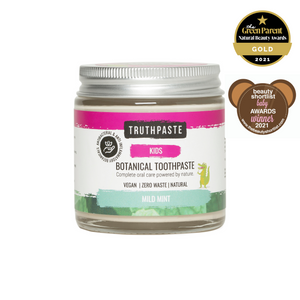 KIDS: MILD MINT
Mild and minty for both big and little teeth. With coconut and calendula for healthy gums, and xylitol help prevent cavities and decay.
"My 6 year old daughter loves the flavour and it does a great job of keeping her teeth clean and healthy. The dentist commented on how lovely her teeth were and to keep doing what we were doing"
Fresher. Cleaner. It's that simple.
We are on a mission to improve oral health. That's why we make botanical toothpaste with anti-bacterial and anti-inflammatory properties to care for the health of the whole mouth and not just teeth.
As well as providing health benefits, our bold, super minty and zingy organic blends will leave you with the freshest breath and cleanest mouth.
Farewell fuzzy teeth, hello long-lasting freshness!
Join our family of stockists
Keep your customers fresh and become a stockist!
All of our products are available for wholesale. Create an account to order online, email us at accounts@truthpaste.co.uk or phone us 01273 526070.
OPEN AN ACCOUNT or existing stockists ORDER ONLINE
Circular Packaging: Jar Return Scheme
Join us on our mission to reduce emmisions, reuse jars, and save you and your customers money!
If you have a physical store and would like to help us collect back empty jars let us know so we can put you on the map.
Offer a 50p incentive to customers against their next jar of Truthpaste, which will be reimbursed by us.
Once you have collected 12 jars, let us know and we will arrange pick up.
For more information and to join the scheme please email accounts@truthpaste.co.uk or phone us on 01273 526070